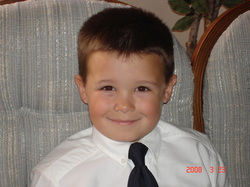 Nick's Mission Backpack Program is a 501(c)(3) non-profit children's charity helping hungry school children in local area schools and day care programs. Nick's Mission Backpack Program was founded in honor and memory of a precious 8 year-old little boy, Nick Shumake, who tragically lost his life along with his grandparents in a flash flood at Albert Pike Campground on June 11, 2010. 17 others lost their lives that tragic morning.

Nick had a passion for helping others and making everyone around him smile and laugh. In his memory Nick's parents founded Nick's Mission Backpack Program to help feed hungry school children on weekends and school holidays.

Through a lot of prayer and a desire to share the same passion Nick had for helping others, we felt called by God to provide this program, this ministry to our local children.

A hungry child will receive a backpack filled with nutritious food and snacks each weekend and on school holidays, including extended holidays such as Thanksgiving, Christmas and Spring Break. The foods and snacks can easily be opened by the child. The empty backpacks are returned by the students and refilled each week. All this is coordinated so the backpacks are distributed discreetly and each child's identity is kept confidential. At the end of the school year the children keep the backpacks for themselves.

Our Program currently provides to 9 schools, an average of 175 children each week! The program is coordinated closely with school staff and officials. We provide information and training on how to recognize signs and symptoms of child hunger. When children are identified as in need of food and nutrition, a referral is made and we work quickly to provide the child and all the siblings in the same household with food, working with parents, guardians, and school staff. Permission is obtained from parents along with identifying students with food allergies.

Our mission is to reach every hungry school child in our area, no matter their background or situation. Nick's Mission is designed to help families by providing the children with food in order to lessen the family's financial burden. We share a passion and responsibility for these precious children. God's children!
---